ravi
Many well-known figures have walked through our Madison Avenue doors. But fifty years ago, an especially important young man stepped in to enquire not
about his wardrobe, but after a job... and he's been here ever since!

After five decades of service at our Madison Avenue store, Ravi is no doubt a part of Paul Stuart's culture and history, vivid in our customers' memories,
admired for his sharp wit, energy, and class. (As well as an almost superhuman, computer-like memory.)

Perhaps you've yet to meet Ravi. Maybe you know him well already. Whatever the case, we sat down to speak with him about his five decades on the frontline
at America's most famous haberdashery: his memories of Martini lunches in the good old days, celebrity faces, the New York Jets, and what he's learned after
fifty years at Paul Stuart.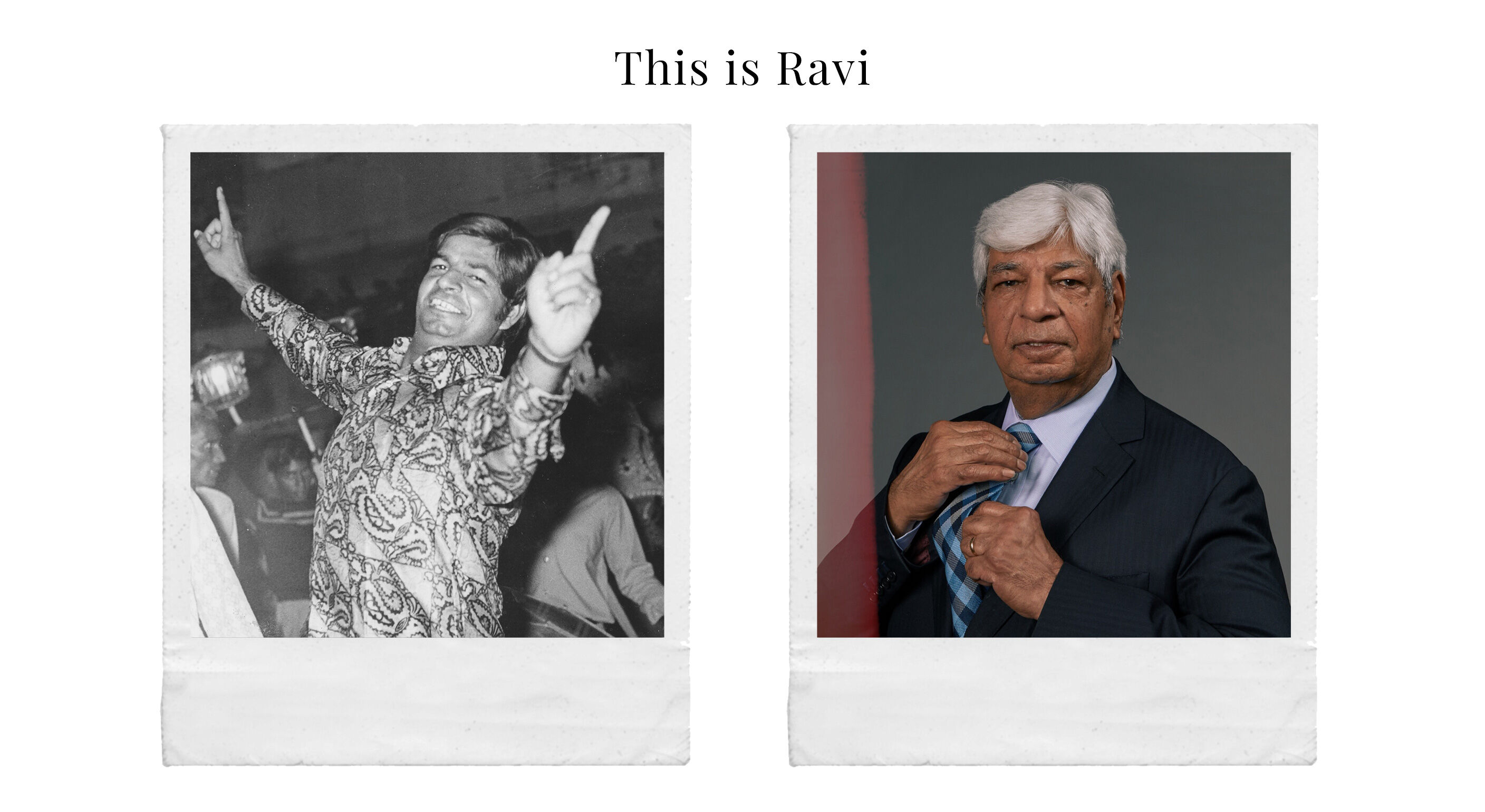 "There was more of a party, easy atmosphere. People used to smoke on the floor back then, and sometimes bring cigars with them. And around 1 'o' clock,
customers would step in after their martini lunches. It wasn't strange if one of your customers had a couple of drinks- but somehow, no one was ever drunk..."

As we celebrate Ravi's fiftieth year at Paul Stuart, we asked our customers to sum up their memories of him in a single song. The answers were as smooth and operatic (and surprisingly) as the man himself. Here's what fifty years with Ravi sounds like.
"Even on my first day at Paul Stuart, I showed up late. I began working here almost by accident, after walking past the store one cold day from a nearby coffee shop. It wasn't long after I moved to New York. I thought 'why not?' and stepped inside, and there I met Mr. Ralph Ostrove Jr, who kindly invited me for an interview. I started the following Monday and have never looked back since."
Work was different in those early days.
"There was more of a party, easy atmosphere. People used to smoke on the floor back then, and sometimes bring cigars with them. And around 1 'o' clock, customers would step inside after their Martini Lunches. It wasn't strange if one of your customers had a couple of drinks – but somehow, no one was ever drunk..."
There was a man here whose job was to have no job.
"I'll never forget it. One day, I noticed a tall, very handsome man who was supposed to be working on the shop floor, but whenever you spoke to him he would get annoyed. I asked Mr. Aiken, "why does he spend the day doing nothing?" and Alfred replied that his job was to do nothing, except to embody the image of Paul Stuart for our customers. Presentation matters. It was funny, but also quite smart."
We do the best alterations in New York.
"For Americans in those days, visiting the Paul Stuart store used to be a family experience; a special occasion. We had a reputation for the best alterations in the city. Grandparents would come in to spoil their grandchildren, and wives would join their husbands in picking out new clothes. At the time, the salesman didn't want the wife to go to the fitting room. It made no sense to me – usually, they decide what the man will want: they know him better than anyone. So, I became the first salesperson to encourage the wife to join her husband."
Men would pick between three colors.
"When I first began here, men would only shop the neutral tones, plus a blue or grey suit as an extra. People forget: winters were more severe in those days, so we would sell three-piece suits made using thicker fabrics, which then became two-piece in light Italian wools once buildings were equipped with proper heating. The style changes because the city changes. Today, what we offer is so much more diverse."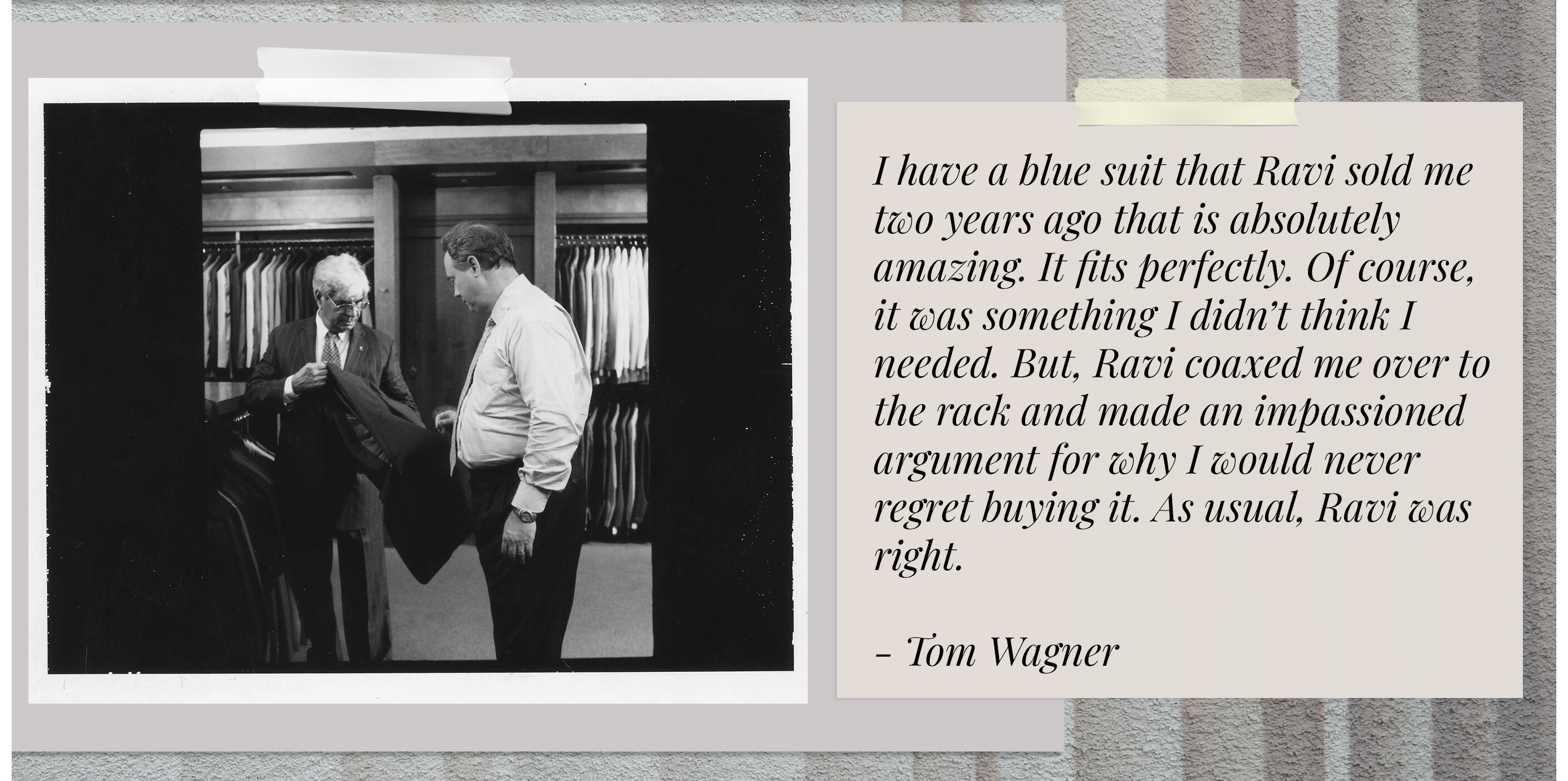 Around fifteen years ago, the city went casual.
"It was when Casual Fridays were introduced in the city firms, and I cannot tell you how popular our sports jackets became! Over these fifty years at Paul Stuart, I've helped customers discover what works for them, and I've seen all kinds of styles come and go. Ralph [Auriemma] is the one bringing us into the new era. He's made the best shoulder I've ever seen on a jacket, no question."
I have suggestions, not advice.
"Sometimes people take advice badly. But if I had to give a suggestion to someone starting, it would be: know your stock, know your hardware, and if in doubt, always double-check. Salespeople should have confidence in what they sell, and always make the customer feel relaxed. A lot of people keep notes, but this stuff is all in my head – it's common sense."
This isn't the first time someone's written about me.
"There was an article about me in Smart Money Magazine years ago, a full-pager. And I remember people coming from Japan to take photographs and interview me. At least two of my customers acknowledge me in their books!"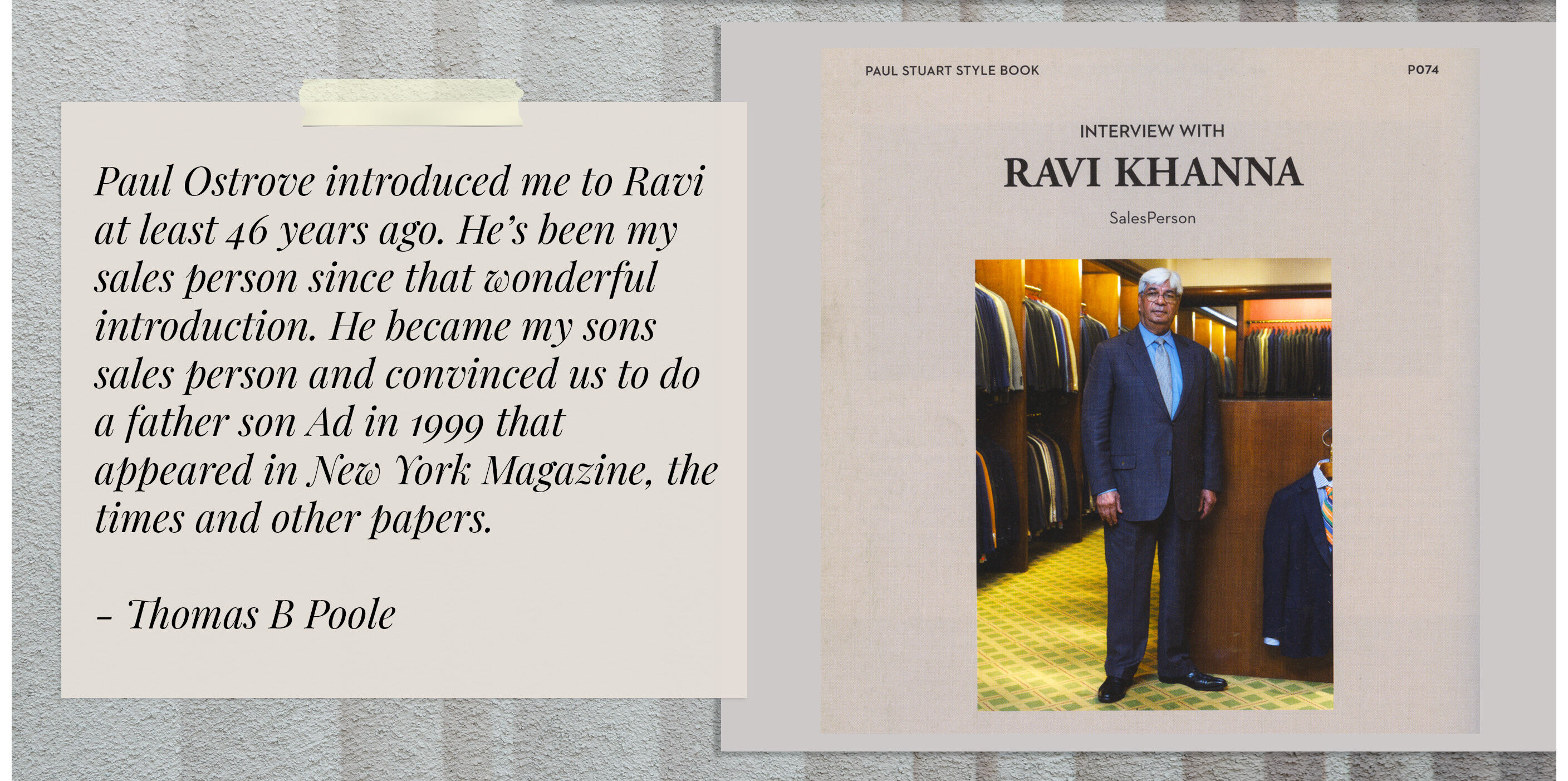 Customers would write me plenty of letters.
"One of them was a very popular writer. Like so many of the people who came into Paul Stuart, we shared many nice memories together. He had a special relationship with his father, a hardworking Pittsburgh man who passed away before his son found success. I remember David saying, "Ravi, I wish my father could see me now." After his book was released, he came in and I immediately put a cashmere jacket on him as a joke. He laughed and then looked confused. "Here," I said, "now you can afford it!"
I prefer the New York Jets over the Giants.
"I still work out three times a week, even at 77 – you need to stay active and alert on the shop floor, in case anyone walks in. We used to be very, very busy; especially back in the day. Sometimes, I wouldn't even have time to go to the bathroom. And if we weren't having lunch at the store, it would be at Hickory House, or we would eat together at Burger King on 49th Street, 10:30am on-the-dot – before our clients came in on their break."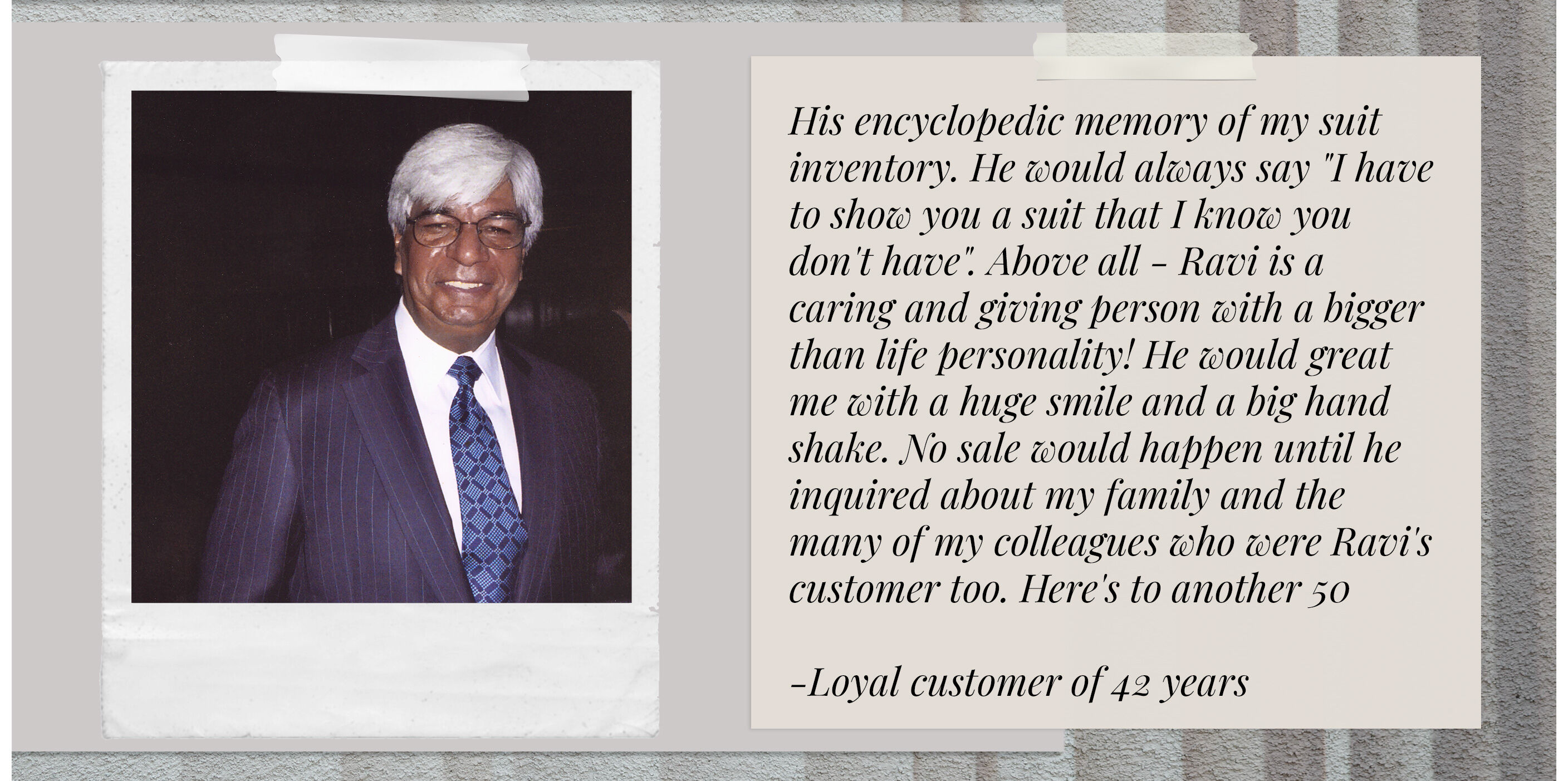 How do I remember so many names and addresses?
"I can tell you about customers I haven't seen for many years: their names, apartment numbers, and what they ordered from us five years ago. People ask if I've got an incredible memory, but it all comes down to concentration and respect. It's important that they feel special shopping with Paul Stuart, and that they can rely on you to know what they want or need."
It feels like I started only yesterday.
"People ask me how I do it, but it never felt like work to me; I've had so much fun. I love this business and still don't want to give up. I feel like I've been a part of making Paul Stuart what it is, and every morning I get up excited for the new day. 'Man is a student up to his deathbed, and the day he knows everything is when he dies' – I really like that phrase.

Even after fifty years, I learn something new each day.